Highlands Medical Center limits visitation
Tuesday, 17 March 2020 08:58
Highlands Medical Center is implementing visitation restrictions for hospital patients, effective immediately.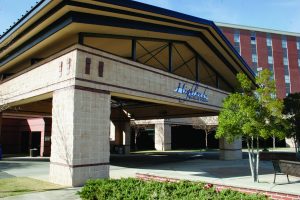 The facility is limiting patient visitors to help protect patients and staff, as well as prevent the potential spread of the COVID-19 in the community.  HMC remains open to patients for services in the Therapy Center, Imaging Center, Surgery Center, Outpatient Lab, Sleep Center, and those seeking emergency medical attention. 
 "While there are no confirmed cases of the virus in our hospital, we are limiting the number of visitors as a precaution for our patients and those providing care to them," said Dr. Lonnie Albin, Chief Medical Offer at HMC. 
Visitation restrictions include:
No visitors under the age of 16, even when an adult is with them. Exceptions for extraordinary circumstances will be evaluated on a case-by-case basis.
No more than one visitor per patient at any time.
Visitors may only enter through the main hospital entrance, are required to participate in health questioning and have their temperature taken before entering the facility, with their temperature being continually monitored during their visit.
Visitors are asked to practice good hygiene by washing hands or using hand sanitizer, and are encouraged to wash their hands with soap and water in the lobby restroom before proceeding to a patient room.
Anyone who has a fever, cough, body aches or sore throat should stay away from the facility unless they are seeking treatment.
People who have flu-like symptoms (fever, cough, body aches and/or sore throat) should call their doctor for instructions before going to any healthcare office or clinic unexpectedly.