Simply Yaya: Fried Cheerios
Wednesday, 07 December 2022 09:48
There is no place like home for the holidays…
I wish I could say I love holidays. And a part of me does. I love the lights, the tinsel. I love when the treetops glisten if we are lucky enough to see snow in Alabama. Silver and gold, red and green. I love all of the twinkling and glittery part of Christmas. The magic that is Santa and the birth of the baby who changed it all. Wise men bearing gifts and a beautiful star that led the way.
I'm sure it's not just me that gets melancholy during the holidays. I think Winnie the Pooh said it best…  "How lucky am I to have something that makes saying goodbye so hard." I guess I've been very lucky in my lifetime. There are so many that I miss so much.
I hope your Christmas is filled with love, light, family and friends. Make memories that will last a lifetime and stay etched in the back of your mind forever. Here are a few of my favorite Christmas memories:
The tree in my Granny Gracine's front yard with the big glass colored bulb lighting on it. I think those kind of lights are called "vintage" now.
Christmas morning at Granny Phillips house. The best breakfast this side of Heaven. Her special gift was sausage rolls and elaborate stockings. I still carry on that stocking tradition today.
My son looking at Santa with the most serious face ever asking for "A chainsaw, I fink (think)" when asked what he wanted Santa to bring. By the way, he is 29, and I still have that chainsaw. Brought all the way from the North Pole to Pikeville, Alabama.
Stopping to buy an egg carton full of golf balls from a man on the roadside in Hollywood one Christmas morning. I still have those, too.
My niece's laughter as she threw snowballs to Junior, the best dang dog ever, when we had a white Christmas. If I'm having a bad day, or missing that ole brown dog, all I have to do is listen to that video.
Reading "Yes, Virginia, there is a Santa Claus" to my son and his friends growing up. Reminding them to always remember the magic. And that Santa lives in our hearts.
Make sure to leave out some cookies and milk for Santa. And don't forget the reindeer. They get hungry too. My son used to put out Cheerios on the front lawn for them. Which reminds me of one of my momma's favorite snacks she would make for me.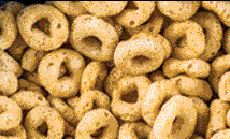 Try them. Trust me on this one.
Fried Cheerios
Ingredients:
• 4 cups cheerios
• 1/2 stick butter
• Salt
Instructions:
1. Melt butter in a saucepan on stove. Pour in cheerios, stirring fast and continuous. Add salt to taste and enjoy hot.
-Kim Rice-Holman