Simply Yaya: 2 Ingredient Biscuits
Tuesday, 08 November 2022 10:29
Less is more…
Ever had one of those spotlight moments in church when you're sure the sermon is aimed directly at you? Like there is a huge spotlight on you, and you would love to crawl under the pew? Pretty sure, we've all been there at one time or another. The good Lord is like that. He sends those messengers just when you need them to knock you down a notch or two.
I've told you all a few things about Momma. Our Yaya. She was kind and smart and crafty, and she loved to cook for those she loved. She never met a stranger, and she left folks better than she found them. In my mind, she will always be young and beautiful; she was just 51 when she left us. And seeing how that age is just right around the corner for me, well, it was young. I see that now.
However, the most important thing I've come to realize about her? She was simple. She had the same hairstyle for as long as I could remember. She bought her clothes at thrift stores and yard sales and loved showing off her great finds. Meanwhile, I was over here buying the most expensive outfits I could, rolling my eyes as she said, "I mean, I only paid a dollar for this!"
She didn't put on airs or try to be anything she wasn't. She couldn't care less about competing with anyone else. She loved a good underdog better than anyone did. I will never forget once when my son's team was winning a basketball game by a huge margin. My sweet momma said, "Well, bless those little fellers' heart. They need to let them score some more points." As I was calling out for more, more, more from my son and his team. I mean, we were winning. Isn't that what life is all about?
Back to that spotlight sermon moment, sitting in a little ole church in Pikeville. The preacher was Randy Brown. At the time, he was the varsity baseball coach for Scottsboro, and my son was a rising baseball player in Junior High, and I was the ultimate baseball mom. As my son tells people, "She had a cowbell." Therefore, I am pretty sure Coach Brown had heard about me.
Picture this: I'm sitting beside my precious Granny O. I have just sung the most perfect harmony on "The Old Rugged Cross," and I've got my bible out ready for the lesson with a notebook to take notes and highlighter in hand. The sermon started and a few minutes into it, I knew I was in trouble. The back of my neck got hot. I grabbed that paper fan out of the back of that pew and started fanning.
"Being outspoken is not always a virtue."
Oh, how those words changed me. I would love to say that I never yelled at a ball game again. Never got mad at an umpire or my son for having a bad game. Yet, I would be lying. The truth is, I did all that and more. Still do. However, every now and then, just when I need it most I hear those words in the back of my mind, reminding me that less is more. Reminding me to be more like Momma – every day and in every way that I can. To slow down and smell the roses and check out the yard sales. And the thrift stores, too.
One of the simplest, yet best recipes. Always a success and always the prettiest biscuits I have ever made: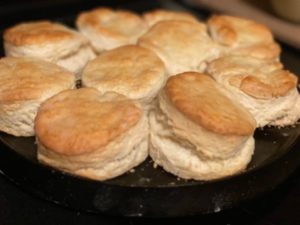 2 Ingredient Biscuits
Ingredients:
• 2 Cups Self-Rising Flour (I use White Lily)
• 1 & 1/2 Cups heavy whipping cream
Instructions:
1. Preheat oven to 500 degrees. Put flour in a bowl and stir in cream just enough to moisten flour to a sticky dough. (You might not use all the cream).
2. Pour dough onto a lightly floured surface. Roll the dough (or pat it out) to about a 1/2 inch thickness and fold over a few times, rolling out dough gently to a 1/2 inch thick square.
3. Cut your dough with your choice of biscuit cutter, rerolling the dough as you need to.
4. Place on your baking sheet or in cast iron skillet. Brush the tops with heavy cream to really make them pretty.
5. Bake for 10-12 minutes.
Enjoy and impress everyone with the simplest of things.
-Kim Rice-Holman