Simply Yaya
Tuesday, 20 September 2022 11:48
Hug your momma today…
I am blessed with some of the best friends a girl could have. When God handed out BFF's, He saw fit to give me the cream of the crop. And over the years, we women have joined many "clubs" together. We've done Zumba, gone to cooking classes, church, craft shows and all those fads and things that women folk do. My friend Deb and I have been trying to plan a spa day for months. We need to make this happen. Quit talking about it and do it.
However, there is one club that I never wish to welcome my friends into. I joined in 2005 at the young age of 31. I never saw it coming, it wasn't a fun one, and I would do anything to cancel my membership. I call it the Motherless Club. I went to bed one night and had a Momma who did something for me every single day of my life. My son had a Yaya who adored him. Those two had something really special. And while he is blessed to have aunts and great grandmothers and plenty of wonderful women who doted on him, nothing could replace her.
It is usually the first thing I say when a friend loses a Momma. "I'm sorry; it's not a club I ever want to welcome anyone int." I would be lying if I said I was not jealous of the ones who have gotten to keep their mommas a lot longer than I did. Who still have them. If you're reading this right now and you still have your momma, stop what you're doing and call her. Tell her that you love her and that you appreciate her. Hug her neck if you can. Do something for her instead of the other way around.
Every vivid memory I have of her, she was standing at the stove, cooking for all of us. For me, fried potatoes and cornbread. For Dylan, bacon and lots of it. My uncle got his favorite coconut cake. My sister, her chicken casserole.
My Momma was a diamond. Never spoke ill of anyone, even when she had plenty of reason to. Met everyone who crossed her path with a smile. She left people better than she found them. And in her memory, and her honor, I try to do the same. Note to self: Be more like Yaya.
Make the cornbread. Think about her with every stir of the spoon when you make it. I use the cast iron skillet she bought me as a wedding gift. And I smile.
Hug your momma today.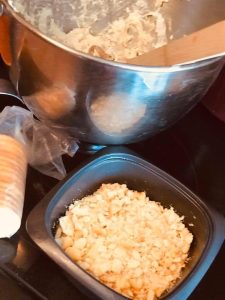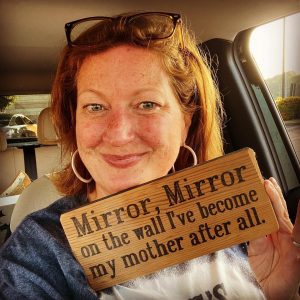 Yaya's Chicken Casserole
Ingredients:
• 4 boneless chicken breasts, cooked and shredded
• 1 can cream of chicken soup
• 1 8 Oz sour cream
• 2 sleeves Ritz cracker, crushed
• 1 stick butter, melted
Directions:
1. Boil and shred chicken breasts and set aside. I use my Kitchenaid stand mixer with the paddle attachment to shred mine after it is cooked.
2. Mix cream of chicken, sour cream, shredded chicken and add salt and pepper to taste. Spread in casserole dish.
3. Top with crushed crackers and then pour melted butter over the top.
4. Bake @ 350 for 30 minutes or until crackers are browned on top.
-Kim Rice-Holman