Simply Yaya: Caramel Cheesecake Bread
Tuesday, 06 September 2022 12:09
There is power in numbers – and great food, too!
I know the majority of folks don't enjoy cooking as I do. Many do it out of necessity, and well many don't do it and spend a whole lot on eating out. Yes, groceries are high too, but you can provide great meals for your family on a budget. And if you're like me, you will end up preferring the home cooked meals.
The number one complaint I get when I share a recipe or talk to people about cooking is "If a recipe has more than 4 or 5 ingredients, I'm not making it". And while simple is good, do not let a recipe intimidate you! Most times several of those items are spices or something small and the recipe truly is not hard at all. And besides, it's just following along on a piece of paper. You can do it! If it flops, just know that many others and I have been there too. However, the majority of the time, it's going to be great and well, so gratifying that YOU did that.
I love making breads. Working with yeast is intimidating for people, but it's not. Your kitchen smells great and when you peek into your bowl and you get that rise that you want, it is the ultimate pat on the back. Making bread is a lost art, I am afraid. Trust me on this one. Find you a simple bread recipe and try it. If you have kids, let them help. It can be a fun change of pace from the world of digital media and screen activities. And memories that can last a lifetime. Who knows, you may have the next Pioneer Woman on your hands?
Block off a Saturday afternoon and surprise your family with a cooking session. Put the phones and video games away. Make a mess and make some memories. I hope that it will turn into a regular habit, and you can start a tradition. Let them share with neighbors, and grandparents and even schoolmates. There is no better gift than those made with love and from the heart.
The holidays will be here before we know it. I love giving baked goods and treats to my friends and family. And sharing some of my homemade goodies at family gatherings. This caramel cheesecake bread is good and easy and looks so pretty wrapped up with a bow to gift.
Try it out! I know you'll love it too.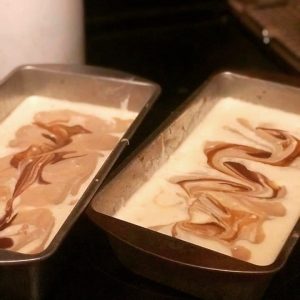 Caramel Cheesecake Bread
Ingredients:
• 2 cups packed brown sugar
• 4 cups all-purpose flour (I use White Lily or King Arthur)
• 2 Tbsp. baking powder
• 1 tsp. salt
• 2 large eggs
• 2 cups milk
• 2/3 cup vegetable oil
Filling:
• 4 ounces cream cheese softened
• 1/4 cup granulated sugar
• 1 large egg
• 1/4 cup caramel sauce
Instructions:
1. Grease two 1-pound loaf pans and preheat oven to 350º.
2. In a medium mixing bowl, combine sugar, clour, baking powder and salt.
3. In a large mixing bowl or stand mixer, beat eggs, milk and oil.
4. Gradually add dry mixture to wet until just moist.
5. Lightly grease loaf pans with baking spray.
6. Pour half the batter into loaf pan.
7. In a medium bowl or stand mixer, combine cream cheese, sugar and egg. Top just the center of the mixture in loaf pan with cream cheese mixture.
8. Pour remaining batter into the loaf pan, allowing room for rise.
9. Add a stripe of caramel sauce to the top of the batter and swirl with a kinife.
10. Bake 50 minutes or until toothpick comes out "clean" with the exception of a little cream cheese.
-Kim Rice-Holman