Simply Yaya: Dylan's Favorite Balsamic Brown Sugar Pork Roast
Wednesday, 03 August 2022 07:44
Food is my love language….
I'm sure several of you have taken the Love Language quiz. Our love language is the way we give and receive love. According to research, there are five different love languages. I need to add one, because my love language is food. Eating food, buying food, arranging food, but most of all cooking it. It soothes my soul.
Under the weather? A recent surgery or hospital stay? Loss in your family? Just down in the dumps? Well, I'm gonna cook for you. Here you go. Chicken noodle soup really does make you feel better when you are sick. My momma's chicken casserole has been known to cause smiles (and arguments over portions) when I make it for the ones who remember hers so fondly. Chess bars can make a bad day better with one bite.
I remember Sunday dinners at Grandma Brandon's house. We may have fought over the pulley-bone piece of fried chicken, but there was no fighting over portions. There was no question as to whether there would be enough food to go around. There was no "knowing" how many people would be in and out the door and around her table after church on Sunday. But we always had enough. Fried chicken. Pinto beans. Fried okra. Cornbread. And the holy grail of this young girls Sunday dinners: the fried potatoes. I'm happy to say I am the proud owner of Grandma Brandon's fried potato bowl. It is a treasure.
I come from a long line of cooking, baking, loving women who brought me where I am today. A Southern girl, who loves to cook, feels like she is in church when she's in the kitchen, feels not only the presence of the Lord but of my precious momma who I miss so. Every vivid memory I have of her she is standing at a stove. Yes, food is my love language; it was born and bred into me.
I mentioned all those times and instances where I might cook for folks, but my favorite one of all was when my baby boy came home from college. While there were many care packages mailed with Variety Bake Shop party cookies and his Aunt Di's peanut butter fudge, coming home meant his favorite pork roast. I can remember shopping trying to find the biggest one, knowing he would eat over half just on his own. And of course, there was always another head or two there. One of his friends I call my boys also.
In this world of hurry up and wait and frustration and this overwhelming thing we call life, let us all try to pause and get back in the kitchen. I promise it will make you feel better. Turn on some good music and let loose. Why, just last night, I was dancing around my kitchen to some good ole Willie Nelson. Try it. Thank me later.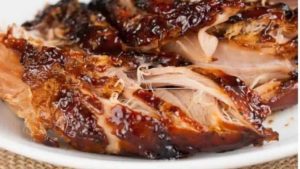 Dylan's Favorite Balsamic Brown Sugar Pork Roast
Ingredients:
• 1 boneless pork loin roast (4-6 lbs.)
• 1 clove garlic, halved
• 1 1/3 C brown sugar, divided
• 1 Tbsp. balsamic vinegar
• 1 Tbsp. Dijon mustard
• 1/4 tsp cinnamon
Directions:
1. Wash pork roast, trim excess fat, pat dry and rub with garlic halves. Sprinkle with salt & pepper, then prick roast all over with a fork.
2. In bowl, combine 1 Cup of the brown sugar, mustard and balsamic vinegar. Rub all over roast.
3. Cover and cook on low for 7 to 9 hours in crock-pot. Pour off the excess juice.
4. Combine the remaining 1/3 Cup brown sugar with cinnamon. Spread mixture over top of roast.
5. Cover and continue cooking on low for 1 hour longer.
-Kim Rice-Holman