Simply Yaya: Chocolate Cobbler
Friday, 29 July 2022 07:44
It's so easy and good…Of cookbooks and cobbler
I collect cookbooks. I would be ashamed if you all saw the vast collection I had. I have an entire kitchen cabinet three shelves deep full of cookbooks. I complain about the clutter all the time; however, I'm not willing to part with my cookbooks to put some of that clutter away.
Now, don't get me wrong. I love Pinterest and food blogs and all the recipes I find on this wondrous thing that we call the internet. It's handy. I mean, what did we do without all the pretty pictures and reviews and the "add ingredients to your grocery list" feature? Heck, you can have your list made and have it delivered to your door. Ain't we fancy?

I won't lie and say I don't love modern conveniences. Grocery pickup is my best friend, well, after my cookbooks that is. I gotta have my cookbooks. Their pages are stained, stuck together, the corners folded down and recipe cutouts from magazines and newspapers tucked between the pages. I used to laugh at Momma for cutting out recipes. Mirror, mirror on the wall. My, how the tables turn.

It's Thanksgiving. Well, I will need my Oak Grove Holiness Church cookbook for the sweet potato casserole recipe I use. Mexican cornbread? I'm gonna need the Section United Methodist Church one. I use Mrs. Brenda Brown's recipe and add some fire roasted corn for an extra kick. My Granny Gracine's teacakes? Well, I turn to the Once in a Blue Moon cookbook. I cry a little when I make those.

I have a vintage cookie jar full of Momma's clippings and note cards of recipes she jotted down on the back of an envelope, a store receipt – whatever she had handy. Treasures. If the house catches fire, I'm grabbing that cookie jar first, for inside are irreplaceable treasures.

I will never forget Momma coming home excited over a chocolate cobbler recipe a woman at Providence Baptist Church shared with her.

"It's so easy and good, Kim. You just dump it in a dish and pour boiling water on it."

I'm sure I rolled my eyes and didn't share in the excitement. I did, however, indulge in the finished result that she made immediately. Oh, it was good. Throw some vanilla ice cream on top, and you have a dish they quite possibly meet you at the pearly gates with.

Need a quick, easy dessert? Try this one. Your friends and family will think you are a genius, and all you did was dump it in a pan and throw boiling water on it. Folks, I know we are all busy, but I can promise showing up with a dish you made yourself is so gratifying. And if you're anything like me, stirring, simmering, and wonderful smells coming from your kitchen can bring you peace. The kitchen is where I feel close to the Lord and to Momma. Enjoy, y'all.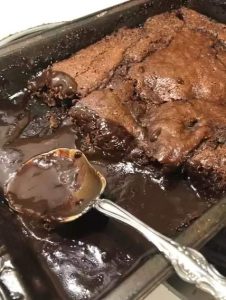 Chocolate Cobbler
Ingredients:
• 6 Tbsp. butter
• 1 cup self rising flour
• 3/4 cup sugar
• 1 1/2 Tbsp. cocoa powder
• 1/2 cup milk
• 1 tsp vanilla
• 1/4 cup cocoa powder
• 1 1/2 cups boiling water

Instructions:
1. Preheat oven to 350 degrees. Melt your butter in an 8×8 or 9×12 baking dish while the oven preheats.
2. In a medium bowl, stir together the flour, 3/4 cup sugar and 1 1/2 Tbsp. cocoa. Stir in the milk and vanilla until smooth. Spoon batter over the melted butter in baking dish.
3. Stir together the remaining cup of sugar and 1/4 cup cocoa powder. Sprinkle over batter in dish. Slowly pour the boiling water over the top of the mixture.
4. Bake for 30 minutes in the preheated oven until set. Best served warm with ice cream.
-Kim Rice Holman