Simply Yaya: Old Fashion Tea Cakes
Tuesday, 26 July 2022 12:09
Gather While You Can…..
As a little girl growing up in Pikeville, we didn't have much. Granted, I didn't realize it at the time, but by today's standards we were downright poor, but I had family from Momma's and Daddy's side, to the right, to the left and all the way down every road surrounding me. It was a blessing – such a blessing that the memories bring me comfort but also make me mourn. Mourn the loss of that older generation of grandmothers, aunts, uncles (most of them with great before their title) and sometimes even a younger cousin. Those are losses that will forever be felt and knowledge that can never be replaced. The fact you know you can easily grab whatever you need from their impressive garden. No one imparting that sage wisdom that can ONLY come from someone 80+. And sometimes, if you're lucky, some praise along with that wisdom.
I will never forget my precious Uncle Isaac asking to speak to me one morning when Granny and I were on our morning phone call. As she handed him the phone, fear struck my heart wondering what I had done wrong. Then he said, "Kim, I just want you to know how proud of you I am. I have never told you that, but I am now. Dylan (my son) is such a fine young man and it means a lot that he sits and talks to me and listens to my stories and tales."
And he did. My son still has some of the finest influences from that generation a young man could have, and he has listened to them, respected them, felt the importance of their role in his life and his upbringing. If I never do anything right in my life, I've done that, and that is more than enough.
When I was a little girl, Granny hosted a monthly birthday supper for anyone in our family who had a birthday that month; no one was too busy to attend. No one had his or her face in a phone the entire time. We played volleyball, we sat under the trees and talked: We gathered.
I wish I could say I remember the meals she cooked, but I don't. But I remember the cake. I remember my Poppa Lewis leading us in Happy Birthday with his booming voice, each person's name on top of that cake. My precious, dysfunctional family gathered around it.
It's a different world we live in today. That family unit and gatherings is sadly not a priority. It grieves my old soul and my heart and makes me thankful for Granny, who left me those memories to cherish and savor and make me want to do better.
Gather while you can.
Granny Gracine made the best tea cakes this side of Heaven. Her recipe came from the Montgomery Blue Moon Inn cookbook, which was proudly passed down to me. It is a treasure.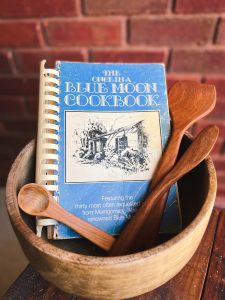 Old Fashioned Tea Cakes
Ingredients:
• 1 Stick Butter
• 1 Tbsp Heavy cream
• 3/4 C Sugar
• 1 1/2 C Flour
• 2 egg yolks
• 1/4 tsp salt
• 1/2 tsp vanilla
• 1/2 tsp baking powder

Directions:
1.Cream butter and sugar until light and fluffy.
2. Add 2 egg yolks and mix well. Add cream.
3. Stir together flour, salt and baking powder til blended. Chill 1 hour.
4. Roll out about ¼ inch thick on lightly floured board. Cut with any shape cookie cutter (we used a round one) and bake on greased cookie sheet @ 375 degrees for 8 to 10 minutes.
5. Before baking, sprinkle top with granulated sugar. Enjoy!
-Kim Rice-Holman