HMC's Integration into Huntsville Hospital Health System
Tuesday, 14 June 2022 09:01
New services, equipment, and a refreshed facility are on the horizon for Highlands Medical Center after the completion of the recent integration with Huntsville Hospital Health System.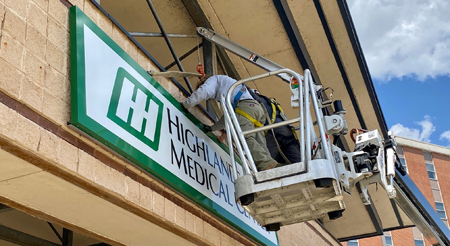 Under the integration agreement, Huntsville Hospital Health System assumed control and responsibility for operating all facilities of the Jackson County Health Care Authority, including Highlands Medical Center, Highlands Health and Rehab, Cumberland Health and Rehab, Highlands Home Health, Scottsboro Urgent Care, Highlands Occupational Medicine, and others.
"For several years our relationship with Huntsville Hospital Health System has helped strengthen our ability to offer quality care to our patients and has been especially important during the unprecedented COVID-19 pandemic," said John Anderson, President of Highlands Medical Center. "We have been able to share
information and discuss challenges and opportunities with the larger team of North Alabama hospitals to benefit our community during a time when they have needed our services more than ever."
As part of the Huntsville Hospital Health System, Highlands Medical Center has the strength of a collaborative group of high performing hospitals across North Alabama to share information, processes, ideas, and best practices for continual enhancements to the care and services offered to meet the health care needs of our diverse community.
The addition of new equipment and enhanced services are already underway. Some of these include:
• New Highlands Wound Care Center location with added treatment of hyperbaric oxygen therapy
• New MRI with enhanced patient experience featuring customizable lighting, audio, and video
• Scottsboro OB-GYN joining the HMC family
• New patient monitoring system throughout HMC
• Over 40 new IV pumps
The integration has also enabled opportunities for facility upgrades and campus beautification. Many projects are planned for the near future, with some already in progress at HMC.
• New directional signs throughout campus
• Landscaping redesign
• New roof and HVAC
• Refreshed Education Center and Human Resources Welcome Center
"This new partnership with the Huntsville Hospital Health System is very exciting for the people of Scottsboro and Jackson County. It will help enhance our health care, and is a very critical economic development tool," said Jim McCamy, Mayor of Scottsboro. "Rebranding and partnering with Huntsville Hospital will enhance the quality of life in our community, and we look forward to growing and improving together with Huntsville Hospital and Highlands Medical Center."
As the integration continues to display its advantages, we'll be providing updates as they take place. We
highly anticipate the future growth and success of Highlands Medical Center as the integration process
continues.