JCHA Meeting to Feature the Life and Work of Lucille Benson
Tuesday, 26 April 2022 08:43
The career of actress Lucille Benson will be the subject of the Jackson County Historical Association meeting to be held Sunday, May 1 at 2:00 at the Scottsboro Depot Museum.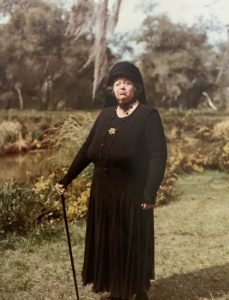 The talk, by the editor of the JCHA's quarterly newsletter, Annette Norris Bradford, will be accompanied by an exhibit featuring photographs, fan letters, awards, and personal effects bequeathed to the executor of Lucille's estate, Bettye Hall Bradford. The talk will also showcase clips from Lucille's most memorable movie and television appearances.
Lucille, a Jackson County native, was born in Stevenson in 1914 as Virginia Morris, but was raised in Scottsboro by her aunt and uncle, Elma and John Benson, who adopted her after her mother died in infancy. After graduating from Jackson County High School (JCHS) and Huntington College, Lucille taught in Leeds AL and at JCHS before leaving Scottsboro in 1938 for what she told her family was a summer break in New York City. Her companion on that trip returned home, but Lucille did not.
She began acting in summer stock theater on the East Coast almost immediately after leaving Scottsboro. She made her Broadway debut in 1942. She acted on the New York stage and with touring companies for over 30 years.
In 1970, she left New York for Hollywood and appeared in her first film: Little Fauss and Big Halsey with Robert Redford and Michael J. Pollard.
A year after her Hollywood movie debut, Lucille made contact with a young director just beginning his filmmaking career, Steven Spielberg, who paired her with Dennis Weaver in his movie Duel. The early 1970s saw Lucille land roles in several first-run movies: WUSA with Paul Newman, Slaughterhouse Five, Tom Sawyer, Mame, The Blue Knight, and culminating in what is probably her most-viewed role, Rita Babtree in Silver Streak with Gene Wilder.
But it was on the television sitcom Bosom Buddies, premiering in 1980, that Lucille gained her greatest exposure. She appeared as Lily Sinclair, the proprietor of a women's hotel where a cross-dressing Tom Hanks lived in disguise.
Ultimately, she had over 30 film credits and 20 televisions appearances to her credit.
The Depot Museum will open at 1:00 to allow viewing of the Lucille Benson exhibit. The presentation will begin at 2:00. Refreshments will be served after the talk. JCHA membership is not required for attendance.