Black History Month: Danielle Jackson Steward
Monday, 22 February 2021 12:45
by guest writers Gary & Kim Speers
The theme of Black History Month for 2021 is, The Black Family: Representation, Identity and Diversity. This week we acknowledge the accomplishments of Danielle Jackson Steward, Pharm. D.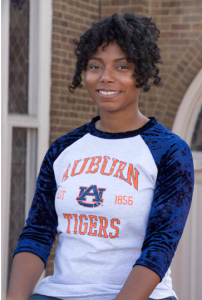 Danielle is a 2012 graduate of Scottsboro High School and  is the daughter of Marcus and Kenyetta Jackson. Her father was a veteran who served in the United States Army; he passed away in 2012.
Growing up in Scottsboro, Dr. Steward was content. There were always children to play with and other adults looking out for everyone. Family is and was very important to her. She attributes much of her success to her family; her mother Kenyetta, grandparents, the late Rev. Richard Townsend and grandmother, Carolyn Townsend. Last but not least, her great-grandmother, Mrs. Lorene Blair.
Danielle's family was an ongoing support system throughout her educational endeavors and successes in life. The old adage, "It takes a village to raise a child," has never been truer during her childhood days. She credits the church, singing in the choir and others in the community with forging her into the successful, young professional women she has become today. 
Danielle was very active in track at SHS. She ran the 4X100, and in 2010 she and her teammates set the state record, which may still hold today.
"If it has changed, it would have been very recently," she stated.
 After high school, Danielle attended one year at Northeast Alabama Community College and completed two years at the University of Alabama in Huntsville, obtaining a BS in biology with a minor in chemistry.
After receiving her undergraduate degree in 2015, she enrolled in the Harrison School of Pharmacy at Auburn University where she earned a doctorate of pharmacy degree in 2019. Dr. Steward says her interest in pharmacy started in the 10th grade while taking a course in chemistry taught by Ms. Kerry Townsend, who suggested that she consider pharmacy as a career because she had the acumen for science. Before researching the pharmacy profession as a career, Danielle says all she could think about was sorting pills all day.
The HOSA/Future Health Professional Class taught by Kathy Potter, RN, also influenced her greatly in becoming a doctor of pharmacy. The New England Odyssey organized by Mrs. Betty Esslinger also holds a special place in her heart. The New England Odyssey trip is a week-long adventure where upcoming senior students explore various cities spanning the east coast. Approximately 17 cities are visited with the final destination culminating in New York City. This sparked an interest for traveling to other cities and towns outside of Scottsboro.  
As an Independent Retail Pharmacist, she has more freedom to order specialized medicines for her patients. She is currently employed by The Drug Store in South Pittsburg, Tennessee but will transition to the new The Drug Store to be located in Stevenson, Alabama.
Dr. Steward believes that setting goals is very important. Becoming a Doctor of Pharmacy was part of her 10-year goal. She planned it out and achieved the goals she set for herself while in the 10th grade. At this point in her life she is taking a much deserved break to enjoy her accomplishments before embarking on her next set of goals.
To encourage others, Dr. Steward says, "No matter where you are in life – young or old – it is never too late to set goals and work toward them. No matter your current circumstances, the future is full of unlimited opportunities and possibilities."
Danielle is married to Mr. Nick Steward whom she met while traveling during her 4th-year pharmacy rotations. Nick is employed with the Department of Defense in IT Cyber Security at Redstone Arsenal. Danielle, Nick and their son, Kaiden currently reside in Huntsville.