Black History Month: Mary Sanford Abernathy
Thursday, 18 February 2021 13:18
by guest writers Kim and Gary Speers
The theme of Black History Month for 2021 is The Black Family: Representation, Identity and Diversity. If you can read this, thank a teacher. If you can calculate percentages, thank a math teacher.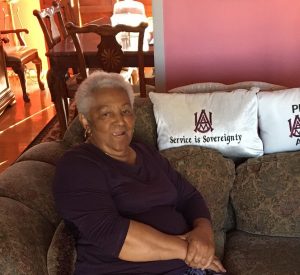 Mrs. Mary Sanford Abernathy is a 34-year veteran teacher of math and science. She was born in Scottsboro to John Willis Sanford and Nettie Sherman Sanford, their youngest child, with 15 older brothers and sisters who are all deceased now.

Mary's mother, Nettie, was a housewife, and her father, John, was respected on both sides of the tracks, by both black and white citizens. Her father traveled extensively throughout the South and Southwest as a plasterer and concrete finisher and also testified at the Scottsboro Boys trial as a key witness.

Mary attended Carver School "under the hill" until it burned down, and she remembers afterward, the students attended school at the local black churches until the new Carver High School was built. Elementary students attended Joyce Chapel UMC, middle school students attended St. Paul AME, and high school students attended St. Elizabeth Baptist Church.

Some of the fun memories of childhood were going to the movie theater, the Ritz or the Bocanita, with just 25 cents and being able to see the movie and also buy a bag of popcorn with a soda. Black patrons had to sit in the balcony as the floor seats were reserved for the white patrons only.

She recalls that as a grade school student, two of her substitute teachers were her older sisters. She promised herself at that time she would never teach her own children because of that experience. Her first desire was to become a nurse, but after much consideration, she decided to become a teacher, so she could be on the same schedule as her three small children.
After graduation from Alabama A&M, she received her first teaching position in Birmingham at segregated Ullman High School. Before the integration, she taught there only a year before receiving a position in Bridgeport.

After the schools in Jackson County were integrated, she was hired as the first black teacher to integrate the teaching staff at a mixed school in Bridgeport. She recalls on her first day, the KKK gathered at the Chicken Basket in Scottsboro. Later that day, the FBI called to tell her they were aware of the gathering and were on top of it. Mary also recalls that as she arrived at school, an older white gentleman approached her and stated, "No one will bother you, and you are going to be okay." Mary and her father are important parts of the Scottsboro story.

In spite of the restrictions, she recalls the good always outweighed the bad. As a teacher, she taught math and science for 34 years before retiring. She also taught summers in the migrant schools in Dutton, Fyffe and North Sand Mountain. During the six summers she taught Mexican students, she taught everything from math to hygiene. Mary's most memorable teaching moments were when students finally understood what she was teaching.

She was the first Black Highland Ambassador and helped open businesses and stores. Her brother, Ben Sanford, became the first black city councilman in Scottsboro after campaigning three times before winning. Scottsboro's very own Ben Sanford Youth Center is named in his honor.

After serving local students and retiring, Mary was appointed to the Jackson County Board of Registrars by Kay Ivey and there served the community for six years.

Mary's greatest legacy is her four children, three of whom have served in the United States military, with two retiring from their service. One retired from TVA, and one continues to serve as an RN. They live in Washington State and Florida, with points in-between. Before the pandemic, Mary would travel frequently, flying to visit her children and grandchildren all over the country.

Initially before beginning the interview, Mary was apprehensive about what she could remember and contribute. After starting, she recalled many interesting facts about her life, career and our community.

For this we are grateful.