Black History Month: Kenneth Steward
Wednesday, 10 February 2021 10:51
by guest writers: Gary & Kim Speers
The theme of Black History Month for 2021 is The Black Family: Representation, Identity, and Diversity. That said, Kenneth Steward is the entrepreneur and principal welder at S & T Specialty Techniques.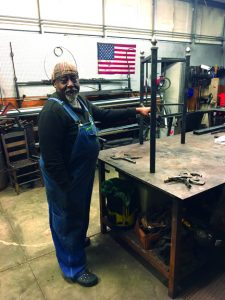 The business specializes in custom wrought iron welding and fabrication. He attributes his strong work ethics and success to his parents, the late Kenneth J. Steward (Mary Kate Tolliver) and grandparents, the late George (Florence) Tolliver.
At the age of 13, Ken began to help Mr. George who owned Tolliver's Meat Market on Maples Ave. Granddad Tolliver was a traveling butcher carrying only a knife and saw; he would go to different farms to process meats such as deer, beef and hogs. Mr. George later opened the meat market while Florence had one of the first thrift stores in the area.
Mr. Steward has not always been a welder. As a matter of fact, he taught himself how to play a guitar in about a year. After graduating Brainerd High School in 1973, three weeks later he and a backup band moved to Tulsa, Oklahoma. This was an exciting time, and they later toured with some legendary musicians such as the Gap Band and the Impressions. In 1978, the backup band began a musical tour starting in Chattanooga and visited cities throughout the U.S. and U.S. Air Force bases in Europe with stops in Holland, Germany, Spain and England.
After leaving the band, Ken enjoyed a new skill set with welding in Chattanooga.
In 1990, tragedy struck. Ken was shot in the head with a 32 caliber pistol at point-blank range by a 15-year old who told him to, "Drop it, drop the money." The kid(s) had been observing Ken installing security bars and decided to rob him that day. His father Kenneth J., heard over the cab's radio system that his son was considered (Dead on Arrival-DOA) and started to the hospital.
After securing the body in the ambulance, the drivers took a break before proceeding. In the meantime, Ken experienced an out-of-body experience that included angels, bright glowing lights and heavenly beings. The experience, while catastrophic, strengthened his faith in God. Ken was told he would never walk and talk again and would need round-the-clock care. His mental capacity was reduced to a six-year old mindset. Within five to six months, his recovery was remarkable, his mental capabilities going from second-grade level to college.
In 1991, Grandfather Tolliver passed away, leaving Mrs. Florence all alone. In the back of his mind, Ken could hear his father and grandfather saying, "Try to be a man."
The men and women in his life lived their lives in such a way that showed Ken how to be a man. A family saying was, "You can make it if you won't be lazy."
Grandma Florence was now elderly, blind and diabetic, needing total care which was only available through her grandson who took care of her. After experiencing a divorce and tending to his mother who had 26 operations of her own, Ken was now called upon to provide caregiving services to Grandma Florence, which for him, was a labor of love. Ken's company, S & T (S for Steward and T for Tolliver) Specialty Techniques exists because of the contributions and investments brought into his life.
All that Ken has ever wanted was to own a little company where locals could train to make a good living for themselves while supporting their families. Currently, there is a young journeyman/assistant that is being mentored by Steward.
Ken acknowledges a strong belief in God and His Son Jesus Christ is the only reason he could carry on. "Second chances don't always occur." Kenneth Steward says he is so thankful to have found Jesus who helped him, and now he would like to help others.