Stewart seeks re-election for Scottsboro City Council Place 2
Thursday, 18 June 2020 10:02
Mr. Stewart was born in Anniston, Alabama. His family moved to Scottsboro when he was six weeks old. He graduated from Scottsboro High School and attended Northeast Alabama Community College where he earned an Associates in Science.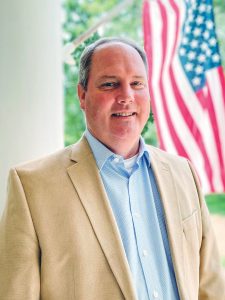 He formally worked for Walmart, serving in management from 1993-2006. He then came back home to manage Big C Drugs in Scottsboro from 2006-2019. He is currently employed by Cardinal Health as a Pharmacy Solutions Consultant.

Mr. Stewart has worked with the youth in several different areas. He served as leader with the Junior Achievement Program and Assistant Wrestling Coach. Patrick served as President of both Kiwanis and Jackson County Homeless Ministry, Chairman of the Commercial Development Authority Board, Chairman of the Deacons at Cumberland Presbyterian Church, Vice Chairman of the Mountain Lakes Chamber of Commerce and Executive Board member for the Jackson County Historical Association.

He was first elected in 2012 for Place 2 on the Scottsboro City Council. He has served as Council President for six out of the eight years and has committed himself to the growth of Scottsboro. He believes our city has tremendous opportunity facing it with quite a few exciting things on the horizon and feels the city council's involvement is the key to capitalizing on growth and progress.

Mr. Stewart is married to the former Lauren Warr. She is employed by the Scottsboro City Board of Education in Special Education. They have five children, Ava age 15, Chloe age 14, Ethan age 14, Mason age 8 and Audrey Claire age 2. They are members of Scottsboro Cumberland Presbyterian Church.