Scottsboro celebrates Archie F. Stewart Memorial Day
Friday, 19 May 2023 12:45
Archie F. Stewart was a passionate and innovative civil rights leader who served as president of the regional NAACP for over ten years.  In 1981, Mayor Roy Owen proclaimed May 23 to be the "Archie F. Stewart Day" in Scottsboro. Next Wednesday, May 24, The Scottsboro Boys Museum will host Archie F. Stewart Day with a program beginning at 10:00 am.  Admission will be free.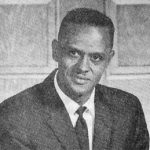 Known by many in Scottsboro as the city's "Black leader," his roots in activism ran deep.  As a thirteen-year-old boy, Archie traveled by horse and buggy to attend the first set of Scottsboro Boys trials in April 1931. His civil rights activism continued through to the end of his life. He often spoke about the need to commemorate rather than run away from the Scottsboro Boys case, and he inspired many to bring this injustice to light.  His work was activated by a strong faith in God, and he was supported along the way by his wife Leola. 
Mr. Stewart's distinguished career included thirty-six years in the classroom, over thirty years in service of the Alabama Democratic Conference, and countless years of leadership with the Jackson County Voters League.  He is the first and only African American elected president of the Jackson County Teachers Association.  He served as a Boys Scout Director for seventeen years.  After retiring from the school system, Mr. Stewart opened the Equal Education Opportunity Commission (EEOC) in the Jackson County Courthouse. 
For questions, contact Tiajuana Cotton at 256-244-5393.