VFW Community Awards Banquet
Wednesday, 19 April 2023 09:32
VFW Post 6073 and their Auxiliary honored local award recipients and contest winners.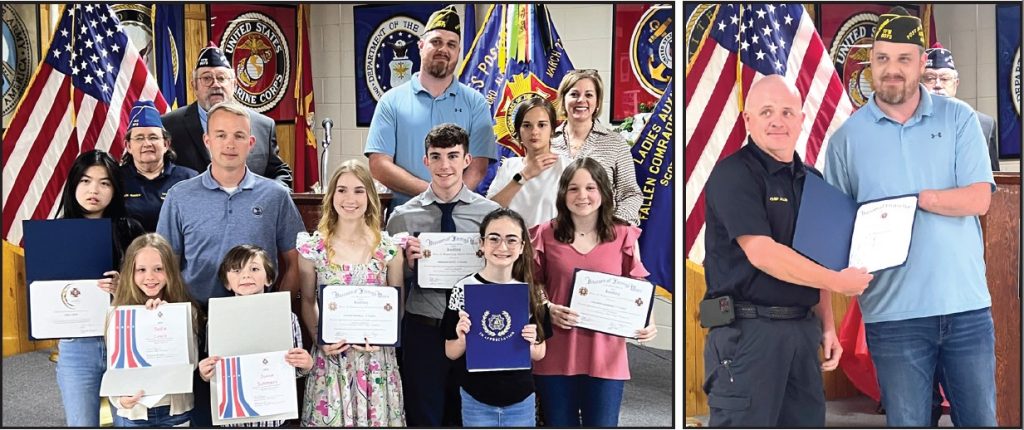 For the Illustrating America Art Contest, K-8, the winners were: for category K-2 | Jaxon Summers | First-grade at Rosalie School | teacher: Katelyn Manning Bullock; for category 3-5 | Sadie Lewis | Fifth-grade at Collins Intermediate School | teacher: Sara Anderton; for category 6-8 | Kailey West | Sixth-grade at Skyline High School | teacher: Lea Kirkland.
For the Young American Creative Patriotic Art: grades 9-12 | Ariel Chen | Tenth-grade at Scottsboro High School | teacher: Christi Wray. Award recipients for Patriot's Pen essay contest were: Maeleigh Golden | 2nd place [not pictured]; Chloe Keeter | 1st place.
For Voice of Democracy: Christion Petty | 3rd place; Lauren Woodall | 2nd place; Lydianne Passmore | 1st place. Teacher of the Year: Lindsey Popper [not pictured].
EMT of the Year: Coty Roberts [accepted on his behalf by Ashley Pool.
Law Enforcement Officer of the Year | Brandon Phillips.
Firefighter of the Year | Chief Patrick Allen [pictured on right].
Congratulations to all of you! It is worth noting that Ariel Chen's submission has been entered into another contest at the state level, and she could be the winner of a $15,000 scholarship. These contests and scholarships are available to apply for and enter every year. For more information about these programs, contact Gayla Sue Mendez at gaylasuemendez@gmail.com.