Nix sentenced to 60 years for murder
Thursday, 16 March 2023 12:47
Today, Thursday, March 16, 2023, in the 38th Circuit Court of Jackson County Alabama, the Hon. Judge John H. Graham sentenced Jeremiah Adam Nix to 60 years for the 2019 shooting death of his longtime partner, Candus Bowes. The sentence required no less than 20 years and no more than 99 years, or life.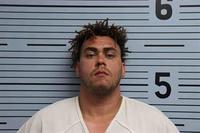 On September 14, 2019, three 911 calls were made in regards to this emergency. When law enforcement arrived on the scene, the body cam footage showed a woman lying on the front porch of a residence. Inside the residence, there was blood splatter on the floor of the living room just inside of the storm door and main door that were also splattered with blood. A gun and spent shell casing were also on the floor next to the blood. It was later discovered by the coroner that the victim, Candus Bowes, had been shot through the side of her right rib cage, along the side of her right breast, and that the bullet traveled through her body and out the other side of her rib cage and left breast, where it came to rest against the strap of her bra.
Nix stated there had been a mild argument between himself and Bowes when he returned from four-wheeler riding with another woman and a friend, but that it had not escalated. He stated he went into the master bedroom to play xbox, and that's when he heard a gunshot. Upon exiting the bedroom, he saw Bowes stand from the couch, gasp and then cough up blood. Nix stated Bowes then exited the house and went outside to rest on the porch. Nix's and Bowes' eldest daughter came from her bedroom to see what was going on and was present during life-saving measures. This is when the 911 calls were placed shortly before Bowes stopped breathing, during which, the eldest daughter can be heard relaying information and counting CPR compressions.
The trial was on its third morning when Nix did not show up to court. After he was brought back to court by the Jackson County Sheriff's Office, Nix was in conference with his attorneys. Afterwards, Nix stated in court he wanted to plead guilty to the charge of murder.
White stated, "Jeremiah decided to plead guilty because he wanted to take responsibility, and he didn't want his daughter to have to testify. He loves his daughter."
After repeated reviews of Nix's request by the presiding Hon. Judge John H. Graham, Nix stated he understood and still wanted to proceed with a plea of guilty, thereby bringing an end to the trial by jury.
Pierce stated, "While believing that Jeremiah Nix deserves to spend the rest of his life in prison, the State of Alabama and the family and friends of Candus Bowes are pleased with the sentence imposed by the Court." 
Nix will carry out his sentence in the Alabama Department of Corrections. In addition, Judge Graham ordered Nix to pay a $60,000 fine, a $10,000 fine to Alabama Crime victims, restitution to Alabama Crime Victims for reimbursement of the victim's funeral expenses, reimbursement of fees for a court-appointed attorney and payment of court costs.
Nix will be eligible for parole in 15 years.