Thursday, 23 June 2022 08:56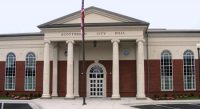 The Scottsboro City Council recently held a regular meeting and work session on Monday, June 13, 2022. Here are several items the Council voted upon and approved:
• Consider request to proceed with rezoning 6326 Alabama Highways 79. The approving vote has now cleared the way for a public hearing to take place on Monday, June 27th.
• A $2,962 budget amendment for the Scottsboro airport to cover fuel and calibrations.
• A budget amendment from excess sales tax to cover the replacement of the HVAC unit at the Scottsboro Police Department in the amount of $8,296.
• The $5,500 budget amendment to cover tuition and lodging for Mayor Jim McCamy to attend Leadership Alabama.
• A $12,460 budget amendment to cover the property damage sustained to a Scottsboro Citizen's lawn when a law enforcement pursuit ended in her front yard.
• The $59,700 needed for Solid Waste to keep machines in the Buy Back program. This also came out of excess sales tax.
• $4,750 from the Tourism Grant for the Alabama Bass Trail Tournament, as well as $10,000 from the Tourism Grant to cover the city's half in partnership with the Chamber of Commerce for the 2023 Toyota Series Fishing Tournament.
• A $230,167.36 budget amendment for the County Park Road/Highway 72 project. City Accountant Rick Wheeler stated these funds will come out of funds the city has accumulated over the years.

In the following meeting, the City's consideration for another bond for Community Development Block grant funds was discussed. The city recently completed one, when almost 40 structures were cleared in the city limits.

"Basically, a CDBG is community development block grant money that comes through HUD that's sent to ADECA. They divide the money up into different funds. This year, they'll have $23,556,938, and they break it down into large cities, small cities, county funds. They have economic development funds, which you participated in for the Public project. You have demolition, which is large city fund, and community enhancement fund is what your demolition project will fall into. But it has got to benefit low to moderate income, or it has to address blight. The demolition part of it will be addressing blight. If you do any other type of project, 51% of people have to be low to moderate income. It's a program that's out there every year that you can participate in," stated Terry Acuff, a CDBG grant liaison/consultant.
Council members were also reminded they are required to notify the public and discuss to see if anyone has any suggestions or questions relating to that. The project that Scottsboro is currently considering is a demolition project that will be due on July 18th. This grant will be a $400,000 community enhancement grant. Aiken stated the city is also looking into an economic development project.

"Each one of those," Aiken stated, "we have a public hearing. You can't take any action tonight. We'll be bringing resolutions as those cost estimates develop, but you have to take this first step."

The following were moved to the next meeting:
• A resolution to pay one-time longevity bonuses to retirees to address inflation and rising living expenses. The total in funds and bonuses the city can distribute is $72,586. If approved, the bonuses will be distributed to the city's retirees in October of this year.
• Renewing the contract with AVENU, the agency that currently collects Scottsboro's sales tax and do their auditing. Wheeler stated they were able to negotiate with AVENU, saving the City 14 cents per dollar.
• A $5,400 weed maintenance agreement for Roseberry Creek weed maintenance. Currently the city has an agreement with the Water, Sewer and Gas Board that they will take turns having this area sprayed. The cost will be covered by the City, and the Board will reimburse their share.
• A $939 invoice from ALDOT for the reviewing of plans for the traffic signal maintenance for Shops of Scottsboro. Currently where the signal will sit is on the state right-of-way, therefore, they must review the plans.
• A $6,000|6 hotel room agreement for the 2023 ASABFA Fishing Tournament. Katie Kirkland, Scottsboro Marketing and Public Relations Coordinator stated it's the same contract the city has been using for the past three years.
• Job description changes for seasonal employees at the Recreation Department. This move will allow those working over the summer to receive more hours per week.
by Martha Smith