Thursday, 09 December 2021 10:04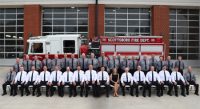 by Jon Lee/Deputy Chief/Scottsboro Fire Department

This annual report documents another successful 12 months for the department as we continue to strive to provide the best possible service for the citizens in our jurisdiction. Scottsboro continues to obtain a PPC rating of Class 3. This rating places Scottsboro in the top 10% of graded communities in Alabama and 11% nationally. This rating cannot only lower homeowner's insurance rates but also helps make the community more enticing to prospective businesses.