Tuesday, 07 November 2023 14:59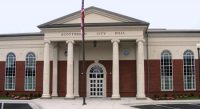 During the recent Scottsboro City Council work session, past due sales tax was the hot topic.
Scottsboro City's Director of Finance Rick Wheeler spoke to the council about the issue. Wheeler explained that a lien has been filed by the City of Scottsboro against the two businesses who owe the largest amounts of past due sales tax. Wheeler also explained that he has sent letters to businesses to come speak with him about delinquencies. Wheeler told the council that the City of Montgomery has a policy in place which allows them to summons business owners to come before the city council.
"At some point in time we're going to have to make an example of the people who are not paying. I recommend that proceedings begin against these businesses, whether it's by a new policy, a lien being placed on the business owner's property or a lawsuit," stated Wheeler.
Council member Mike Ashburn reported that he had checked with Jackson County, and a lien has also been placed by the County against the business owing the largest amount, for the three percent unpaid sales tax – two-thirds of which goes to Scottsboro City Schools and one-third of which goes to Jackson County Schools.
Ashburn also reported that he had spoken with the City of Decatur, which has adopted a policy in which the businesses who are not paying sales tax are placed under a probationary period. In the event the taxes aren't paid, the business license is cancelled.
Council President Richard Bailey questioned, "What's it going to take to go to the criminal side? Avenu is trying to collect the money, but if they get to a certain point, when do we go further?"
Ashburn questioned, "How long do we allow current businesses to refuse to pay taxes?"
Wheeler stated that in regard to the Montgomery policy, the businesses are allowed six months to pay the delinquent taxes to the city. If the taxes are not paid, the business is closed down. Wheeler reported that according to information he has received, Montgomery has only had one business closed down due to unpaid taxes.
Ashburn questioned the procedure to close a business down. City Attorney Stephen Kennamer explained that an ordinance or procedure would need to be adopted by the city council to authorize business closures. 
Council member Donna Frederick asked Wheeler, "How many big ones do we have, who owe over $5,000?" Wheeler responded, "Approximately fifteen." Frederick went on to say, "It's not fair to the citizens paying their taxes, or to the other business owners in the community who are remitting the taxes collected."
Bailey stated, "If I'm running a business and I'm $20,000 behind, even if I close my business, it's still a criminal charge. I don't think it's just the ones that are still open. It's the ones that are closed also." 
Wheeler told the council that there is one business owner in particular who wants to sell part of their property, but can't do so because the City of Scottsboro placed a lien against the property for delinquent taxes.
Council member Ralph Dawe questioned whether failure to remit the sales tax was a criminal charge.  Kennamer replied, "I think there is a criminal side. If I give you a $1.10 and part of that goes here or there, and to our children and to the city and I'm required to pay it, but I continue to hold it and not pay it, that's theft."
Ashburn stated, "I think we need a policy in place for the future. There are some on the list I know will go bankrupt to keep from paying."
Kennamer said, "I suggest we get policies and procedures from Montgomery and look at those, and see if that's what we want to adopt. I recommend we bring Avenu up and summons the top ten delinquencies to come before the council and the people."
It was questioned whether or not an LLC would be protected. Kennamer suggested that the owner of each business or LLC sign a personal guarantee when they apply for their business license. He went on to state, "If they don't want to sign it, they don't get a business license."
According to a public records request submitted by The Clarion, there are nine businesses currently operating in the City of Scottsboro, who are delinquent in sales tax remittance and have been so for more than thirty days. The top business on the delinquent list owes $58,253.62 while the lowest past due amount owed is $1,300.90.
by Heather Dohring