Tuesday, 13 June 2023 12:23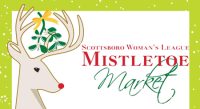 Scottsboro Woman's League is a service organization founded in 1968. The organization raises funds for local programs that provide services to the residents of Jackson County. 
Scottsboro Woman's League will host its 8th annual Mistletoe Market on November 17th-19th, 2023. The Mistletoe Market is an upscale Christmas Market held at Goose Pond Civic Center with over 30 vendors from across the Southeast. The past few years have drawn over 1,000 visitors to the market. 
Funds raised by the market are donated to local organizations who benefit residents of Scottsboro and Jackson County. These organizations rely on donations to provide their services:
Scottsboro Education Foundation
Impact Learning Center
Jackson County Christmas Charities
Celebrate Recovery
DHR of Jackson County
The ARC of Jackson County
Turning Point Pregnancy Center of Scottsboro
Crisis Services – Domestic Violence Coalition
Downtown Scottsboro
Local Scholarships
Scottsboro Public Library Summer Program
Redemption Town Partners
Nourish One Child

Scottsboro Woman's League is now seeking sponsorships for the 2023 Mistletoe Market. (See the flyers below for more details.)
For more information or you have questions, please contact Brittany Lambert at 256.609.0024 or Candace Amos at 256.608.9096.